Demolition & Dismantling
Demolition is the removal of a structure and the clearance of its arisings by an environmentally secure method in order to provide for potential further development of the site.
The project management team at ASC Contracts is able to assess and determine the quickest, most economical, and safest solution to client's demolition needs. We consider the use of explosives, controlled collapse of structures or the traditional method of removal. Some structures may require careful techniques in order to preserve listed elements or to retain the facades. The same careful consideration will be given to city centre structures, airport terminals, petrochemical works, car manufacturing plants, or a single residential dwelling.
Concrete Crushing
ASC Contracts uses modern tracked concrete crushing plant and using low loader transport can place these on any site. Arisings from site operations are then crushed to any specification from a 125/75mm down material for piling platforms and site roads to an MOT Type 1 specification for adopted roads and hardstandings. This to satisfy our clients growing needs to recycle as much as possible during construction operations and provide as part of the ASC Contracts service a total waste management solution.
Temporary Works & Retained Facades
ASC Contracts is able to offer a complete package when it comes to facade retention and support works. This can be fabricated and installed complete, by us, to our own design, the design of the client's engineers, or by using a proprietary support system to the supplier's design. Our retained structural engineering practice, Contractors Design Services Limited (CDS), have many years experience in this field and have specialised in the design and implementation of such schemes under the leadership of their Principal, Simon Smith - Chartered Civil & Structural Engineer.
Scaffolding
If required for a demolition project scaffolding can also be erected to provide access or as part of a building support system.
Explosive Demolition
If required for a project explosive demolition is used to bring down all or part of a building to ensure complete management of the safety of operatives and members of the public surrounding the sites. Projects including chimneys, water towers and bridges have been carried out since 2002, all to client satisfaction and in line with current health and safety legislation.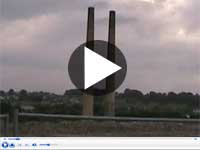 Watch this video of chimney demolition at the former Demaglass site in Chesterfield for Wilson Bowden Developments. A landmark demolition to make way for the new Chesterfield FC football ground and other retail opportunities including Tesco.

We can offer you a no obligation quote, so contact us now for more information.